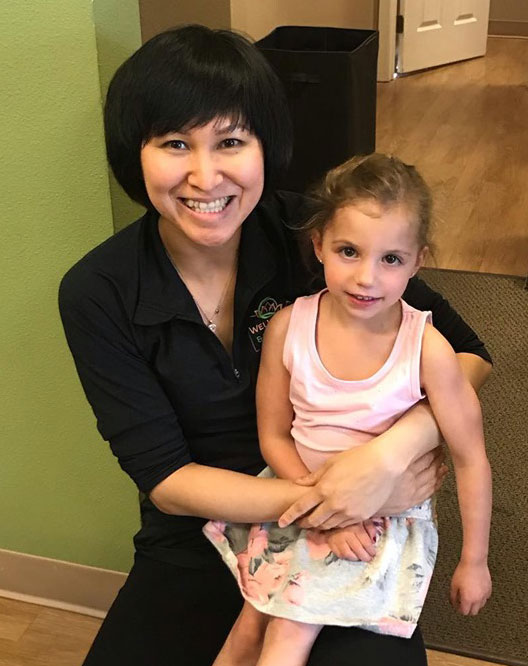 ---
A true local, born and raised in Las Vegas, Dr. Julie Quan is helping improve the health of our community one patient at a time.
---
"Be the change you wish to see in the world."
---
Dr. Quan practices the Gonstead System of Chiropractic which is a specific hands-on technique that carefully analyzes which nerve may be the cause of the health issue. It is a unique technique that requires additional certification after one completes Chiropractic School and is a more skillful approach to Chiropractic.
Dr. Quan is not a neurologist and does not claim to cure or treat any condition. She does, however, work with the nerve pathways coming out of the spine to give life to every part of the body. When there is interference in these pathways, multiple symptoms and diseases can manifest.
"My goal is to empower patients to create wellness with prevention," she says. "To support that goal, aside from treating patients, we offer a free health class once a month where we discuss issues related to good health as well as some basics around the importance that a properly functioning nervous system has in overall health and wellness."
Dr. Quan graduated from UNLV with a Bachelor of Science in Kinesiology and continued her doctorate studies at Cleveland Chiropractic College LA. In 2009, Dr. Quan received her Gonstead Extremity Certification which has qualified her to care for patients with TMJ (Temporomandibular joint syndrome) or patients experiencing shoulder, elbow, wrist, hand, knee, or ankle discomfort. She is also educated in nutrition and weight loss and assists her clients in understanding healthful ways of improving their diet and shedding those pesky extra pounds.
Personal Background
Dr. Julie Quan was born and raised in Las Vegas.  She has family here, which has been a true blessing since the birth of her son, Logan.  They have been beyond supportive and is the reason she is able to continue to balance her work and home life.   Both her parents were refugees from Vietnam that travelled to America in 1979. Her father is Chinese and her mother is Vietnamese.  Her father passed away a few weeks before the Grand Opening of her new office.  Instead of having a funeral for him, she celebrated his life during the Grand Opening with his friends and family.  She loves that most people do not know that she is part Vietnamese; therefore, allowing her to eavesdrop on conversations. 😉
When she was 11 years old, her father had a minor car accident and soon after the entire family was seeing a chiropractor. Although too young to understand what chiropractic was all about, she considered it as her future profession. It wasn't until she attended chiropractic school where she was approached by the President of the Gonstead Club to come check out what the club was about. After her first club meeting, she was pleasantly surprised to discover that chiropractic was not only for neck and back pain, but it was also for all age groups, even newborns. From her very first trimester of school, she dedicated herself to learning and studying the Gonstead Method. Before graduating, she attended over 20 Gonstead seminars and workshops and later became the President of Gonstead Club mentoring other passionate students. She continues to mentor local high school and college students that have seeked her wanting to know whether or not chiropractic was the right profession for them to pursue.  With her initial guidance, many of these students have moved forward to Life West Chiropractic College.
Dr. Quan enjoys volunteering and giving back to her community, which is one of the six core values of the company. On weekends she loves spending time with her baby son, Logan. She strives to parent consciously with intention. Her hope is to instill values of love, humility, and gratitude in his heart.